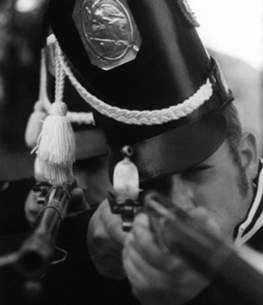 UMB News
This page is for news relevant to UMB members. It will be updated as circumstances require. Events will still be listed on the events page, but information about how to get there, what to bring, as well as what was discussed at meetings will be here.
May
We had a small turnout for drill. Please tell Tom if you know expect to come, since he has quite a drive and knows not to send home early arrivals when some of us are late and not expected (OK, me).

We have two events in short order, both local timelines. Memorial Day is a timeline of American soldiers at Fort Snelling and we're the 1812 contingent. Same again June 3 at Dakota City at the Dakota County fairgrounds in Farmington. Here's a map on the site's web site.

This actually March news, but I neglected to mention it before. I was interviewed by MPR for a story on how Americans recreate their history. I was interviewed to give a reenactor's perspective. Only one sentence of my interview got used, but it was good sentence at least. Here's the story on the MPR web site.
April
Drill resumed April 27 in the Ft. Snelling visitor center parking lot. It was unseasonably cold but we persevered. Some of us are going to the Voyageur Militia Muster at the North West Company Fur Post near Pine City on May 14-15. The location is 1.5 miles west of I-35 at exit 169 (Pine County Hwy. 7). Historic Ft. Snelling asked for 1812 camps for its timeline of American soldiers on Memorial Day.